By JACK DOUGLAS JR. - Star-Telegram staff writer - Sun, Aug. 12, 2007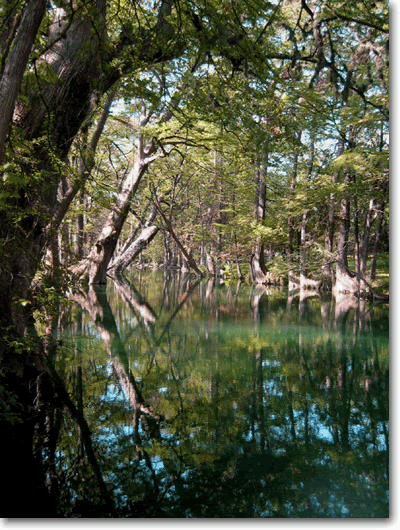 Photo by John Graddy
For a while there, it looked as if an oasis in the middle of the Texas Hill Country -- a water playground for kids swinging on a rope from a cypress tree -- would turn into a residential development crammed with homes and pavement, closed off to the people who shared their youth there.
That is when the residents of the small town of Wimberley banded together, eventually calling themselves the Friends of Blue Hole, and managed to buy 126 acres of lush land near the town square, outmaneuvering developers who had planned to build several hundred homes around an iconic Texas swimming hole.
Instead of another row of driveways and mailboxes, Wimberley residents now have the Blue Hole Regional Park, with near-future plans -- laid out by the Lady Bird Johnson Wildflower Center -- for nature trails, "primitive" camping sites, tennis courts and soccer fields.
For kids 12 and under and seniors 60 and over, $2.50 will pay for a dip in the beautiful Blue Hole, the price being $5 for everyone else. Season passes go for $10.
"Saving the Blue Hole is one of the greatest legacies we could leave future Texans," former Gov. Ann Richards said.
Dorothy Cook, store manager at the Gingerbread House in Wimberley, agreed. The banks of Cypress Creek and its spring-fed swimming hole must remain open for the "average, normal person, the hardworking person" who remembers the Blue Hole from his or her carefree youth as a place to go after school, a cool spot for that first smooch with a sweetheart.
"It's a neat place to go play," Cook said. "It should be for everyone."
Since the 1920s, the tree-shaded stretch of Cypress Creek, including the Blue Hole, had been a place to sneak away to. But by 2003, word was spreading that a developer was going to buy the property, which a business partnership in Austin owned.
Instead, Peter Way, a Houston businessman and part-time Wimberley resident, agreed to buy the Blue Hole and hold it until Wimberley civic leaders could raise enough money to purchase it.
That happened in 2005, thanks to $1.9 million in federal park funds administered through the Texas Parks and Wildlife Department, $700,000 in Hays County bond funds, $200,000 from the Lower Colorado River Authority, a $143,000 loan from a land conservation group and $700,000 in private donations.
"It really was, for a community of this size, an extraordinary effort to protect an extraordinary piece of property," said Don Ferguson, city administrator for Wimberley, 15 miles west of San Marcos, between Austin and San Antonio.
Way said he agreed to take a loss in investment opportunities and sell the Blue Hole for the amount he paid for it -- just over $3 million -- to keep yet another "high-density residential development" from scarring the Hill Country. A new neighborhood may also have depleted the water source for Wimberley's 3,000 residents who, Way said, had for too long been "sneaking into the Blue Hole."
Way said that after decades of swinging from a rope on a cypress tree, then belly-flopping into the cool clear water, the locals deserved to finally own the place.
Online
Read more - see photos